Women's Compression Shorts ROYAL BAY® Extreme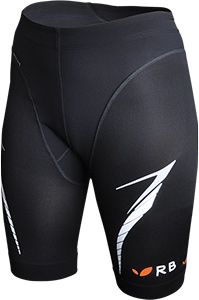 The family of ROYAL BAY® Extreme products with VERY STRONG compression also includes shorts with integrated compression sleeves. You will certainly appreciate the high breathability of the material as well as its quick-drying properties.
The product is designed to be your "second skin". The compression effect is targeted at the thigh area. Thanks to great flexibility to all sides, the seat part is very comfortable and adapts well to every body.
The Sanitized® Silver antibacterial treatment is a matter of course. There are both men's and women's cuts – all in four sizes.

MICROFIBRE
MOISTURE MANAGEMENT (DeoSoft)

LYCRA® SOFT COMFORT

COVERED LYCRA®

4 WAYS STRETCHABLE

SECOND SKIN FEELING

UV 50+

HIGH BREATHABILITY

ANTI-ABRASIVE PROTECTION

QUICK-DRYING

SAFETY REFLECTIVE ELEMENTS

TARGETED COMPRESSION
SOFT WAIST






The circumference of the thigh is absolutely crucial and the only parameter you need to know to select the right thigh sleeve. The circumference is measured at the widest point of the thigh muscle.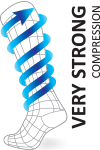 VERY STRONG
Very powerful compression for maximum performance. It is designed for top athletes and to withstand even extreme conditions. As the only one, this compression directly targets muscles, where its effect is the greatest.
For more information about compression effects, see the COMPRESSION section.
Material:
80 % PAD NYLON / 20 % LYCRA® elastane
The high proportion of polyamide microfibre gives the product its strength. The double-wound elastic fibre provides the great compression properties of the product. The specific features of this product are also achieved through its knitting style.
Maintenance:

Wash in hand only. Do not bleach the product. Do not iron the product. Do not clean the product chemically. Do not dry the product in a tumble dryer. Do not use softeners to wash the product.