Men's Sports T-Shirt ROYAL BAY® Oxygen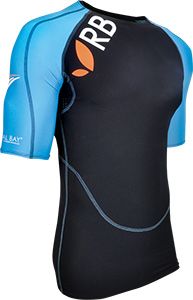 This functional sports T-shirt is designed for top and recreational athletes. The product exactly copies the body to make it your "second skin". Flat seams prevent skin irritation while the silicone band in the waist prevents the shirt from rolling up. The flexible fibres contained in the material have extreme abrasion resistance. The fabric structure allows perfect movement in four directions, and the material used is very breathable, abrasion-resistant, and has UV protection.

HIGH BREATHABILITY

SAFETY REFLECTIVE ELEMENTS

SECOND SKIN FEELING

COVERED LYCRA®

SILICONE ANTI-ROLL STRIP

ANTI-ABRASIVE PROTECTION 

QUICK-DRYING

UV 50+

FLAT SEAMS

EXTREMELY LIGHTWEIGHT









For correct selection of this product, you need to measure the circumference of the chest and of the waist.
Material:
78 % PAD NYLON / 22 % LYCRA® elastane
This material excels with its lightness and great breathability. Double-wound LYCRA® is highly abrasion-resistant and protects against UV sunlight. The structure of this material efficiently removes moisture away from the body and is quick-drying.
Maintenance:

Wash in hand only. Do not bleach the product. Do not iron the product. Do not clean the product chemically. Do not dry the product in a tumble dryer. Do not use softeners to wash the product.