Compression Knee-High Socks ROYAL BAY® Neon 2.0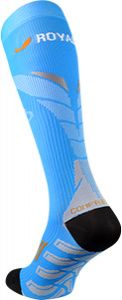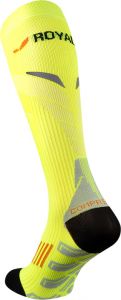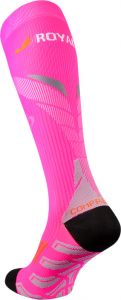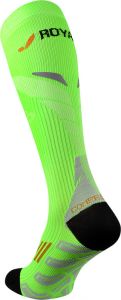 Compression knee-high socks ROYAL BAY® Neon 2.0 are our most renowned product with STRONG graduated compression, which is especially suited for improving the performance of athletes. It offers a wide range of neon colours that together with reflexive elements contribute to better visibility in the dark and in bad weather. The socks also reinforce and provide thermal insulation to the Achilles tendon. Sanitized® Silver ions on the surface act against a variety of bacteria and fungi.

GRADUATED COMPRESSION
MOISTURE MANAGEMENT (DeoSoft)

LYCRA® SOFT COMFORT

COVERED LYCRA®

ANTIMICROBIAL SANITIZED® SILVER

ERGONOMIC FIT

FOOT MASSAGE & ANTI-SHOCK

PROTECTION OF ACHILLES TENDON

MUSCLE SHOCK ABSORBER

SAFETY REFLECTIVE ELEMENTS









To choose the right compression product, you need to precisely measure the muscle circumference. The calf is measured at its widest point, and this measurement is absolutely vital for compression to function properly.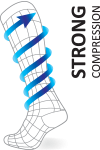 STRONG
Strong compression for sports activity. This level of compression significantly improves sports performance. It is designed for active athletes at amateur, semi-professional, and professional level. This compression is graduated. It is the strongest at the ankle and gets weaker up towards the knee.

For more information about compression effects, see the COMPRESSION section.
Material:
82% PAD NYLON, 18% LYCRA® elastane
The high proportion of polyamide microfibre gives the product its strength. The double-wound elastic fibre provides the great compression properties of the product. The specific features of this product are also achieved through its knitting style.
Maintenance:

Wash in a washing machine at 30 °C using a gentle cycle. Do not bleach the product. Do not iron the product. Do not clean the product chemically. Do not dry the product in a tumble dryer. Do not use softeners to wash the product.
How to wear compression products
he upper hem of the socks should end 1 – 2 cm below the knee / knee hole (1 and 2) and should not be bent or folded (3). The hem should never be placed in the middle of the calf (4) and should be placed after its widest point. The socks should never be creased or folded (5). The material is flexible and malleable, and if a crease occurs during running, smooth it down with your hands (6).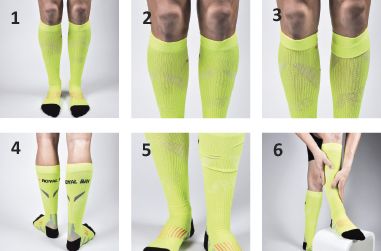 Knee-high socks are easier to put on if you turn them inside out up to the heel (c). Then put on the plantar part of the socks (e), make sure it fits correctly, put on the rest of the socks (f) and pull them up to the knee (h).