Compression Knee-High Socks ROYAL BAY® Classic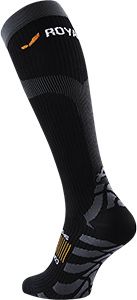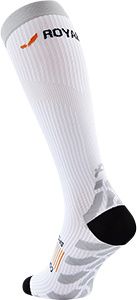 Compression knee-high socks ROYAL BAY® Classic are distinctive with their STRONG compression. The product is especially suitable for improving sports performance. Sanitized® Silver antimicrobial finish on the surface of the material acts against a variety of bacteria and fungi. The ergonomically shaped sole provides greater stability of the foot in the shoe and the shock absorption system eliminates potential shock damage to the calf muscle. Compression knee-high socks ROYAL BAY® Classic are available in black and white colours. The pleasant microfibres used give the socks a silky touch and also remove moisture away from the body.

MICROFIBRE
MOISTURE MANAGEMENT (DeoSoft)

ANTIBACTERIAL SANITIZED® SILVER

COVERED LYCRA®

LYCRA® SOFT COMFORT

ERGONOMIC FIT

FOOT MASSAGE & ANTI-SHOCK

PROTECTION OF ACHILLES TENDON

MUSCLE SHOCK ABSORBER

GRADUATED COMPRESSION









To choose the right compression product, you need to precisely measure the muscle circumference. The calf is measured at its widest point, and this measurement is absolutely vital for compression to function properly.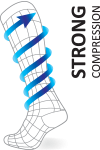 STRONG
Strong compression for sports activity. This level of compression significantly improves sports performance. It is designed for active athletes at amateur, semi-professional, and professional level. This compression is graduated. It is the strongest at the ankle and gets weaker up towards the knee.

For more information about compression effects, see the COMPRESSION section.
Material:
82% PAD NYLON, 18% LYCRA® elastane
The high proportion of polyamide microfibre gives the product its strength. The double-wound elastic fibre provides the great compression properties of the product. The specific features of this product are also achieved through its knitting style.
Maintenance:

Wash in a washing machine at 30 °C using a gentle cycle. Do not bleach the product. Do not iron the product. Do not clean the product chemically. Do not dry the product in a tumble dryer. Do not use softeners to wash the product.