Women's Sports Functional Undershirt ROYAL BAY®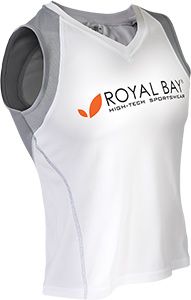 For sporting activities, you will surely appreciate the breathable, quick-drying material weighting only 140g/m2. The micropolyester removes moisture away from the skin to the fabric surface where it evaporates. The undershirt is made with flat seams that reduce friction, thus preventing abrasion. Safety reflective elements are a matter of course. The men's undershirt is made with a rounded neckline.

HIGH BREATHABILITY

SAFETY REFLECTIVE ELEMENTS

QUICK-DRYING

MICROFIBRE
MOISTURE MANAGEMENT (DeoSoft)

EXTREMELY LIGHTWEIGHT

FLAT SEAMS




Material:
100% polyester TOPCOOL®
TopCool® is a soft, highly breathable fabric that quickly absorbs and removes moisture from the body. TopCool® polyester fibres are specially designed for the production of functional sportswear that is exposed to extreme sweat conditions.
Maintenance:

Wash in a washing machine at 30 °C using a gentle cycle. Do not bleach the product. Do not iron the product. Do not clean the product chemically. Do not dry the product in a tumble dryer. Do not use softeners to wash the product.