Sports Socks ROYAL BAY® Trek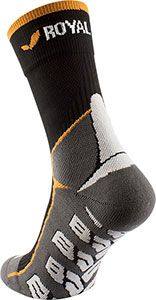 Functional socks for both challenging mountain hikes and relaxing short walks. The SUPER HIGH-CUT allows the socks' use in any type of shoes. The reinforced material on the toe and heel eliminates bruises from all-day wearing and protects the Achilles tendon. The comfortable wide hem supports proper blood circulation in the feet, and the braided pattern in the sole area makes treading more comfortable and removes moisture. Thanks to the addition of elastane and the product's ergonomic shape, the socks fit perfectly to the foot when walking. The traditional Sanitized® Silver anti-microbial treatment prevents formation of undesirable odours.

ERGONOMIC FIT
MOISTURE MANAGEMENT (DeoSoft)

LYCRA® SOFT COMFORT

COVERED LYCRA®

ANTIBACTERIAL SANITIZED® SILVER

FOOT MASSAGE & ANTI-SHOCK

PROTECTION OF ACHILLES TENDON

COMFORTABLE WIDE HEM

REINFORCED HEEL

REINFORCED TOE

MICROFIBRE




Compression strength is not measured for HIGH-CUT and LOW-CUT socks. All you need to know to choose the right size is the size of your feet.
Material:
90% PAD NYLON, 10% LYCRA® elastane
The high proportion of polyamide microfibre gives the product its strength. The double-wound elastic fibre provides the great compression properties of the product. The specific features of this product are also achieved through its knitting style.
Maintenance:

Wash in a washing machine at 30 °C using a gentle cycle. Do not bleach the product. Do not iron the product. Do not clean the product chemically. Do not dry the product in a tumble dryer. Do not use softeners to wash the product.
Recommended products

Compression Knee-High Socks ROYAL BAY® Relax
The compression socks with medium graduated compression are especially suitable for regeneration, prevention of travel thrombosis, and muscle activation before exercise.
More about the product

Compression Thigh Sleeves ROYAL BAY® Extreme
The compression thigh sleeves with very strong targeted compression are quick-drying, abrasion-resistant, and suitable for both maximum performance and regeneration.
More about the product

Sports T-Shirt ROYAL BAY® Oxygen
This sports shirt is made of unique, lightweight materials. It is abrasion-resistant, fast-drying, and is perfectly suitable for most outdoor sports.
More about the product